Qwiki
Qwiki is like Douglas Adams' Hitchhiker's Guide to the Galaxy come to life: type in a topic -- any topic -- and you'll get a narrated, multimedia tour of the subject. Co-founder Doug Imbruce sums it up well: "We think in the future information becomes an experience that you watch," he says. "Today, everyone is absolutely overwhelmed with information. We need to simplify."
Imbruce uses Qwiki as his alarm clock, waking up each day to a pleasantly intoned run-through of his e-mail inbox, the weather and upcoming events. (One Startup Battlefield judge dubbed the system "your personal HAL.") The site's visual interface is its most obvious breakthrough: "It's amazing to see a product that's in beta have so much attention to the product design," judge and Twitter product head Jason Goldman said. TechCrunch founder Michael Arrington dubbed it "the sexy Ferrari with absolutely no promises of launching."
That sizzle factor was enough to win the judges over -- and the audience. They met the news that Qwiki was the event's grand prize winner with wild cheering and a tweeting frenzy.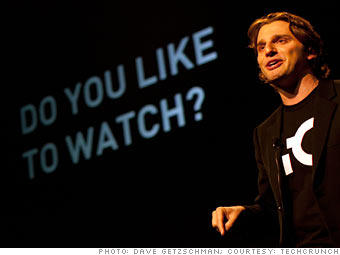 Imagine that's his 'O' Face!
Tweetbeat, from Kosmix
Twitter now has 90 million tweets per day flying through the site. How do you sort the important ones from the noise?
Enter Tweetbeat. Launched Wednesday, the site monitors Twitter to spotlight the top trending stories. Contextual data-mining technology highlights the most important tweets, including those from influential Twitterati and first-hand participants. "Tweetbeat doesn't show you every tweet about an event -- only the most meaningful ones," says co-founder Anand Rajaraman. The site is one of a handful Twitter has granted direct access to its real-time "firehose" of tweet data.
Tweetbeat drew more than 1 million visitors to a pilot test it ran during the World Cup. The site is ideal for high-profile events like an Apple keynote or a TV series finale, when thousands of users chime in at once on a topic. A graph tracks tweet volume along a timeline, and a reply feature lets users "rewind" and view tweaks at and around pivotal moments. Rajaraman showed the graph technology off using the tweetstream from TechCrunch Disrupt: "That spike that you see is the exact moment that the deal was signed onstage," he said, referring to AOL's acquisition of TechCrunch on Tuesday. "You can go to that exact moment to see the reactions."
Tweetbeat was created by Kosmix, a five-year-old company with a staff of 70 whose previous ventures include health-information aggregator RightHealth.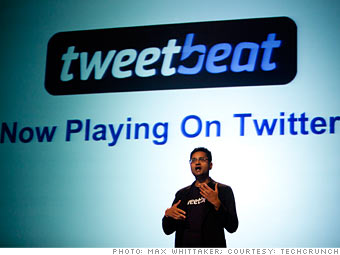 GameCrush
GameCrush co-founder Eric Strasser can make his company's pitch in one short sentence: "GameCrush is a website where guys pay to play video games with girls."
At 60 cents a minute for games, that's a potential killer business model for the company and the "playdates" it shares the cash with. It's a Web axiom that games and dating sites are two of the three proven online money-making business models, and GameCrush teeters on the edge of plunging straight into the third. (Its homepage currently features the profiles of playdates like MistressKittenator and ImNotAnAngel.)
The site's origin story is based on beer: Guys can walk into bars and buy a girl a drink -- so why can't they do the same online? "If you think the ratio is bad in a sports bar, think about what it's like on a multiplayer game on Xbox," Strasser says. "It's practically impossible to find a girl to play, let alone get to know who she is."
GameCrush soft-launched in March, and immediately crashed under the traffic deluge. "We thought we were building a corner bar -- and then 10,000 people showed up," Strasser says. The team pulled back to private beta, spent six months rebuilding the site from scratch, and went live Monday.
GameCrush was by far the show's most controversial startup -- compelling enough to make it into the finalist round, but creepy enough to turn off much of the audience. TechCrunch editor Sarah Lacy tweeted "i like gamecrush but always feel a bit like i need a shower after they present."
Lark
In a sea of software startups, Lark stood out by having an actual product to pitch. The company takes aim at a universal problem: dueling alarm clocks. When your roommate or spouse wakes up earlier than you do, their alarm is going to jolt you awake too. Repeatedly, if they're a snooze-button abuser.
"Over 75% of Americans sleep with someone else in the room, and we're ruining each other's sleep day in and day out," says CEO and co-founder Julia Hu.
Developed by engineers from MIT and Stanford, Lark's alarm-clock replacement system relies on two elements, your iPhone and a custom wristband. You park your iPhone in Lark's dock, and when your alarm rings, the wristband silently vibrates to wake you up. Lark tested the device with more than 100 human guinea pigs -- "including an 18-year-old college freshman boy! No one is more sleep-deprived than that" -- and had a 100% wake-up success rate, Hu says.
Hu and her partners spent nine months vetting manufacturers before choosing one in China, who created the two prototypes Lark uses to show off its system. The company is now accepting pre-orders for its first batch of 500 Larks, due for release in early 2011. The iPhone-dock-and-wristband system will sell for $99 (early-bird buyers can score a $10 discount with the promo code "TC2010").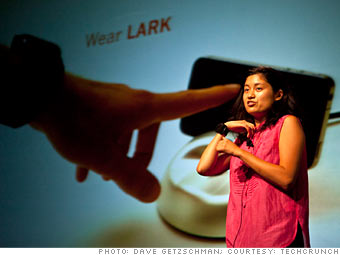 "And our CEO is FUN to TOUCH!"
Gild, by Pac Labs
"We add a game layer to [fill in the blank]" was a theme running through Disrupt's startup pitches. Gild brings that to the job hunt, offering candidates -- mainly programmers -- contests and puzzles designed to show off their coding skills and creativity.
The site is free for job hunters, and offers some flashy prizes to those who emerge victorious from its challenges. Right now, Harrah's casino is sponsoring a free two-night stay in Las Vegas for the winner of a Java knowledge quiz, for example.
The fun and games have a serious purpose: Employers want better tools than just resumes for scouting talent. Pac Labs has spent the past seven years chipping away at that problem. "Our idea was all about 'how can we use scientific methods to improve the process of screening candidates for tech jobs," says CEO Sheeroy Desai. "So that was the first couple of years -- all offline pen-and-paper stuff."The company's clients include Oracle, SAP and Hewlett-Packard. Gild, which launched in beta in May and now has 60,000 registered users, makes its money by charging employers for access to its talent pool. Early customers include Salesforce.com, PayPal and Sapient.
Voxy
Language textbooks are boring. The best teacher is everyday experience, and the best teaching methods reflect that, Voxy founder Paul Gollash believes.
"These are your next textbooks," he announced, flashing up a slide of news and celebrity magazines. "These are your new classrooms" -- city streets, and the signs that fill them.
Voxy uses smartphones and the Web as its platform for serving up games and news stories linked to translation tools. The idea is to make learning fun and contextual.
Voxy isn't a Rosetta Stone: It works best for people who already have some fluency with the language they're learning . "To get someone from zero to fluent -- I don't think we're going to get someone from zero," Gollash says. "I think it's going to supplement."
But the market for students looking for supplemental tools is huge. Voxy is focusing its first efforts on Spanish speakers trying to learn English, because that's where Gollash sees the most urgency.
Gollash was born in Milwaukee but spent time in South America and Spain, picking up Spanish and Portuguese along the way. He also picked up a connection most entrepreneurs would kill for: He worked in the venture capital wing of Richard Branson's Virgin empire. "We saw literally hundreds of business plans," he says. "It's fun to be on the other side of the table."